3 Act-On Automated Programs You Didn't Know You Needed
by Phil Easley-Bosley  |  May 1, 2019
From time to time I like to geek out on tactical marketing topics, and this is an uber-nerd topic relating to my favorite Marketing Automation Platform, Act-On Software.
Also, for some reason, I use caps like an old person. It's late. I'm old. Leave me alone and let me pontificate.
Real Marketing Automation
When most people say "Marketing Automation" they are typically referring to its simplest form of "Email Automation" which is essentially a trigger for a set of scheduled messages. While this has some amount of utilitarian value, if that is all you get from your Act-On Marketing Automation efforts, the idea and potential value in marketing automation will soon lose their luster.
As most of my readers know, I had the privilege of working at Act-On for just shy of 5 years and was honored to serve as the Lead Marketing Automation Strategist for much of that time. In this capacity, I was afforded substantial amounts of time to research trends in Act-On and identify opportunities for Act-On customers to enhance their use of marketing automation. It's no surprise that a significant amount of this time and energy was invested into researching and developing Automated Programs.
Having worked directly with more than 2,000 Act-On accounts and nearly 10,000 Act-On users, I often found myself explaining "Marketing Automation isn't just scheduling email, it is automating your marketing processes so you have time to do more valuable things."
You see, Act-On isn't just for scheduling emails. It manages your marketing lists, improves your data, facilitates reporting, and interacts with your human resources.
How? Allow me to share…
Form to Master List Management
Act-On Forms write to selected Form Submission lists. We very often want to track how many people registered for our Spring Event, so they must go to their own submission list.  But I ALSO want them to go to my Non-CRM Master List.
I could configure a new List Maintenance Program (LMP) every time I build a form, but that is tedious and painful.  Also, the LMP will keep overwriting the original submission data to my Master List every time it runs (e.g. they submit "PHILIP" as their First Name. You scrub the data and change this to the proper case "Philip".  The LMP will keep overwriting the bad data.)
This one is easy. Use an Automated Program! All you have to do is add your Form Submission List to a single Act-On Automated Program.
May have mentioned this… any time an event should occur one time, you should always use an Automated Program. In this case, the logic is simple:
Automated Program Source List? Each new Form Submission List
AP Workflow? Copy to Non-CRM Master List
Marketing Stage or Sales Stage Management
Many people use List Maintenance Programs (LMP) for this, and that's just inviting disaster. For example, imagine a lead hits a target Marketing Qualified Lead Score of 40 points. They enter a segment and an LMP sets their Sales Stage to MQL. Job done, right?
Except sales takes the lead and sets the Sales Stage to "SQL" because they are pursuing the opportunity. That night, your LMP changes the Sales Stage BACK TO MQL!
Anytime an event should occur one time, you should always use an Automated Program. Again, simple logic:
Automated Program Source List? Segment: MQL (Lead Score = 40+)
AP Workflow: Change Field Sales Stage to MQL
Reporting Augmentation
This one is similar to Stage Management but serves an entirely different purpose.  At Tactical Marketing Automation, we believe "Everything is a funnel." Call us old school.
Marketing = Funnel
Sales = Funnel
Prospecting = Funnel
Going to lunch? FUNNEL.
In our workflows, when someone enters a funnel stage they start a stream of emails designed to move them through that stage and advance them towards qualification. We typically have 3 stages before MQL.
Here's the problem, I like reports. I use them to make better decisions. Act-On doesn't do that.
(Before someone comments about the native "Funnel Reports" – it's an abomination.  You don't know what you're talking about.)
So the fix is easy.
When someone enters one of my email workflows, I set their current stage in a field.  I also note this as their "Previous Stage" immediately before they leave. Now I'm tracking what stage are they in, and what stage did they come from. To get even slicker, I create counters that increment by 1 each day which gives me the ability to track exactly how long they were in that stage.
Then I create reports like this… Well, I don't, Mike does.  He's cool like that.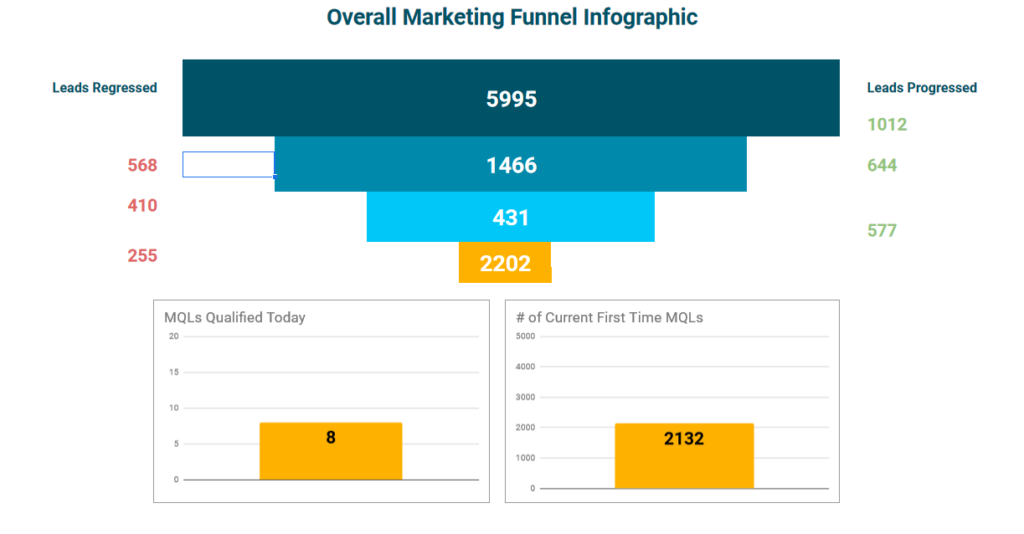 I believe that most things are possible in Act-On. I regularly solve "impossible problems" in free consulting calls. I can admit it, I'm better at marketing automation than I am at sales.
Act-On is not perfect but damn, it's powerful, and I love it.
About Phil Bosley
Philip, CEO, has nearly 20 years of marketing experience and has served as a consultant, advisor, and resource for thousands of companies like yours.